Which carrier should you choose: T mobile or AT&T? Do you really have in your mind this question? In this article, I'm going over 5 categories to help you decide which carrier is best for you.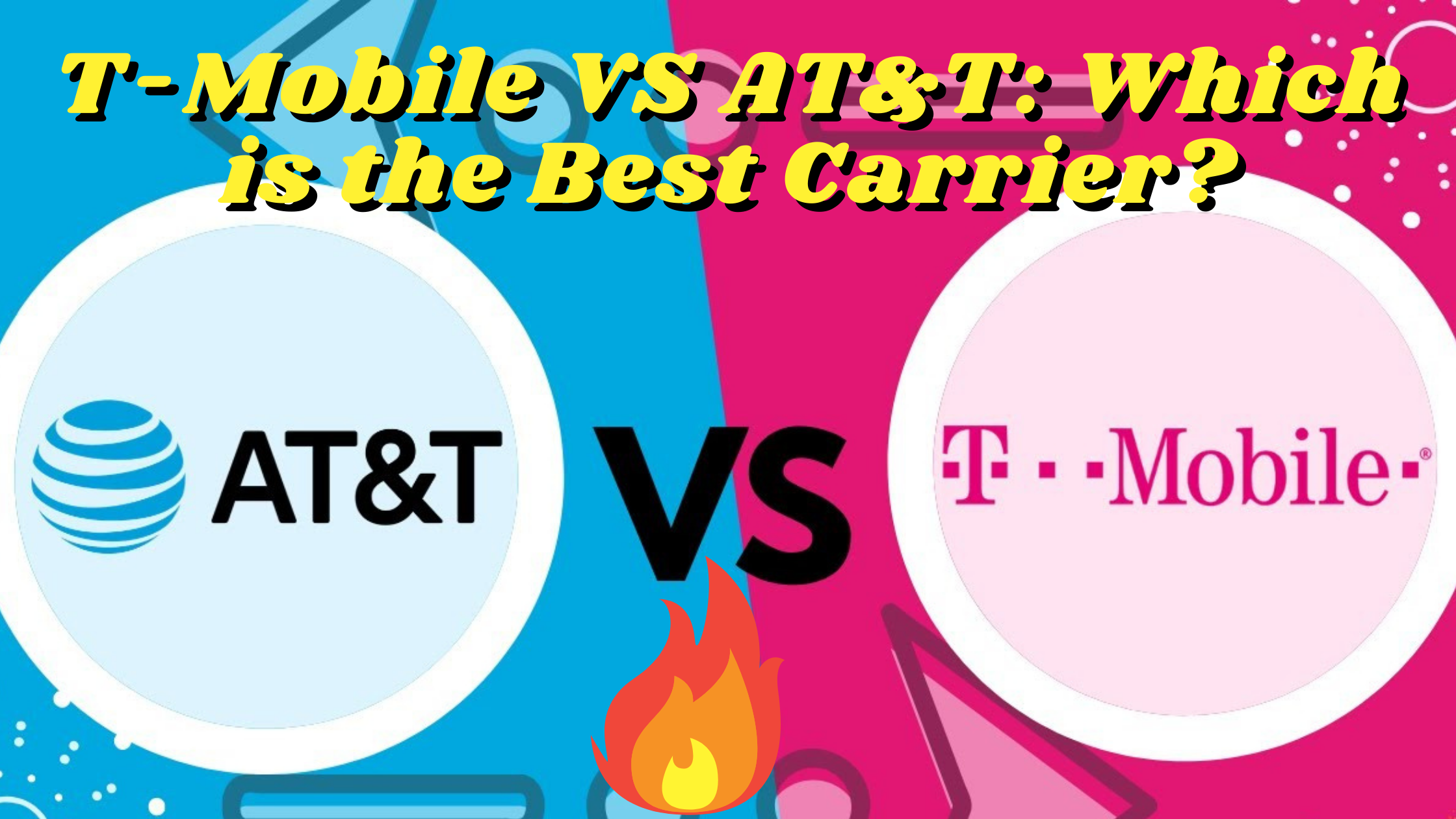 The categories, we are discussing below are:
Coverage
Plans
Price
Data Speeds
Perks
And coverage, we'll compare each carrier's coverage map. To see who has the most and plans, we'll look at a few details including variety and throttling thresholds in price, we'll discuss who has the better prices, and in data, we'll see whose data is faster and more reliable. Lastly, in the purchase, we take a look at which carrier offers you more in terms of free add ons. A gold star is awarded at the conclusion of each category, and the carrier with the most gold awards wins at the finish.
Coverage:
Coverage One is a tough contest for you. Still, in the end, AT&T beats out T Mobile whenever it comes to 4g and 3g of coverage. Our new data shows us that AT&T 3g covers 71 percent of the US and 4g covers 69 percent of the US or T Mobile 3g network 71 percent and 4g covers 63 percent of T Mobile coverage is missing on the west coast and Montana, Nevada, Colorado Washington, Idaho as well as parts of California. AT&T has major gaps at the same point but they are not as evident.
There is very little study of the data to see the uncertainty. And T Mobile is steadily making headway on AT&T. However for the moment, AT&T is going to get a Gold Star now.
Plans:
Most of T Mobile's unlimited data plans have 50 Gigabytes of deprioritization data, which is fantastic, deprioritization meaning that your data will slow down only throughout network congestion. Also, note that I'm only comparing postpaid unlimited plans. If you want to learn more about all of AT&T"s and T mobile's plans and here is how you can unlock a t-mobile phone for free; you can follow the given link.
Whenever it comes to hotspots T mobile's lowest unlimited data plan, which again is $60 a month, you have a 3g 10-gigabyte hotspot for the next Magenta package, which is $70 a month. You get a 3 Gigabyte 4g hotspot. And with T mobile's most expensive plan Magenta plus you get 20 Gigabytes of a 4g hotspot. While you're searching for plan choices, T Mobile has 7 choices to select from 3 postpaid plans. AT&T unlimited prepaid low-cost plan for unlimited starters at $65 a month you don't get a hotspot and data slows down throughout congestion.
The next package, an unrestricted extra $75 a month, would give you 15 Gigabytes of the hotspot and 50 Gigabytes of deprioritization limit, which really is better than the equivalent T mobile magenta plan. AT&T's last loaded contract, Unlimited Elite offers you 30 Gigabytes of the hotspot and 100 Gigabytes of deprioritization limit, which would be better than Magenta Plus's T mobile.
Unless you're searching for a range of plans and choices.AT&T provides 15 separate plans, 7 prepaid packages, and 8 postpaid plans. AT&T defeats T Mobile in contract choice and flexible plan offerings. So, AT&T's going to get the Goldstar now.
Pricing:
Whenever it comes to evaluating T-Mobile and AT&T rates, they are almost similar. Still, T Mobile is the champion as well when it comes to unlimited data plans, T Mobile Essential and Magenta are only $5 less than AT&T is a similar starter and extra data plans, T-Mobile is therefore usually cheaper than any other carrier's plans. So, the review team and I will get the Goldstar here.
Data speeds:
To evaluate network rates and data reliably, we are switching to Ookla, which checked over 4.1 billion smartphones. And find the best and fastest network speeds.
They found that AT&T was faster than T Mobile, relative to T Mobile, which was second at 30.95, with an overall data speed of 32.9 megabits each second. After all, T Mobile easily beat AT&T consistently for data. Google found T-Mobile users report 86% consistency, where AT&T users report 85% consistency. Then we're declaring this one a tie and offering Goldstar to both of them.
Perks:
We are, finally, contrasting perks. Perks are any add ons or bonuses that you can get through your smartphone phone for free. When you get the most perks generally with the more expensive plans. Then the rewards go down with cheaper plans. The Smartphone has so many advantages it would be a mouthful to always save them. Some of my highlights are free Wi-Fi on gogo-enabled airlines. Limitless HD streaming and worldwide internet coverage and texting, data is theoretically 2g speeds and it's free, so I'll consider taking it. AT&T can't even compete with the advantages of T mobile. Also at present, their best advantage is a free HBO subscription. That's why T Mobile is having a gold star here.
Conclusion:
Now, we have come to a tie in our comparison. However, that doesn't essentially require that these carriers are equal to you. T mobile's great advantages like inflight Wi-Fi and global coverage are great for passengers. Plus, if you're trying to save an amount of cash and want more reliable data rates, T Mobile is your best choice. But if you're searching for more range, more data, and hotspot limits want higher data rates, and don't bother spending just a little more AT&T for you. This is all the material for today. Let me know in the comment section below if you have any questions and tell me, how would you select AT&T or T-Mobile?