Unless you have been living under a rock for the past decade, you couldn't help but notice the huge surge of online businesses that have taken place during recent times. This has led to a plethora of people making a ton of money right from the comfort of their home through various methods such as blogging, e-commerce, online tools, software products, YouTube, courses, etc.
Along with the above ways of having an income through the internet, there are 2 other popular online business models that are enabling people to have a 6 to 7 figure income, which are called drop servicing and drop shipping. So what is drop service and dropshipping? And which one of the two are better options if you are looking to start your career in an online shopping business? Read along to find the answers to these questions, along with a lot more useful information.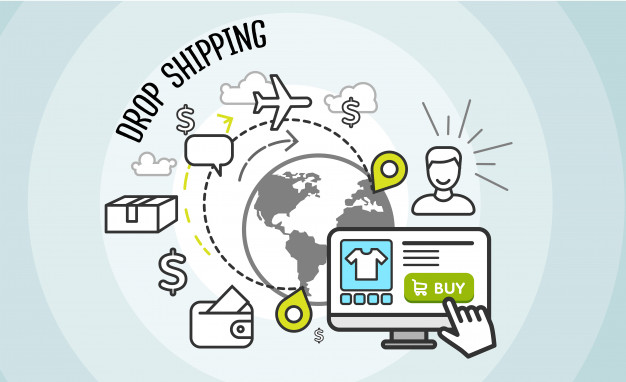 What is Drop Servicing Business?
Drop service is an online business model that is steadily gaining a lot of popularity in recent times. Drop servicing business comprises selling various online services that include logo designing, SEO, social media management, translation, content writing, etc. in exchange for money. But the crux of the drop service industry is that you need not do the work yourself. Instead, drop servicing focuses on outsourcing the work that you get to other freelancers or employees that charge you a lot less than what the client is paying you. This means that the difference between the two makes up your profit as a middleman. This business model is quite similar to an agent that works for a commission.
What is a Dropshipping Business?
 Dropshipping is very similar to the drop servicing business model, the only difference is that you aren't dealing with services, but instead you are buying and selling products. In dropshipping, products are displayed and sold from your website but they aren't necessarily stored in your inventory. In fact, the actual products are stored somewhere else entirely, such as in another online e-commerce company's inventory. As soon as you get an order from a customer that lands on your website through various marketing channels, the address and other order details are sent to the company where you are buying the product from, and it is shipped to the destination from there itself. So you need not worry about things like inventory, shipping, packaging, etc. Your only role while running a drop shipping business is to manage the website and focus on marketing through social media and search engines like google, etc.
What is a Drop Service Agency and How Does it Work?
What a drop servicing agency does is quite simple to understand and even to emulate if you are just starting out or are looking to learn more about drop servicing.
Before you start, the first thing that you must decide when you create a website and post an ad is to select an online service that's both profitable as well as good for the long term. The services that you pick could be any of the following such as; game developing, logo designing, social media marketing, website development, search engine optimization, logo animation, data entry, content writing, proofreading, video editing, chatbot development, UI/UX, etc. You can choose from any of the above services or additional ones that come to your mind which are related to supporting online shopping businesses. The only thing that you must keep in mind is that the services you pick must be axillary to online businesses, meaning that they must require the services that you provide in order to flourish and run their business.
If you do not have the budget to build a website, then its not a problem. In fact, you can start a drop servicing business from scratch with zero investment, here's how; You must be aware of the websites where you can hire freelancers such as fiver, freelancer, etc. So you have to post your advertisement or listing on those high profile sites and look for freelancers to hire on other not so popular websites such as SEOClerks, PixelClerks, ListingDock, etc. and you will be sure to find freelancers who undertake the project for a comparatively nominal quote than you would get from the other popular websites.
What are the Pros and Cons of Drop Servicing?
The pros of the drop serving online shopping business are that it is very easy and straightforward to get started with. You do not need extensive skills or technical knowledge about the services that you offer, you just need to have a proper understanding of them – enough to get the job done from someone else. You also have to make sure that you are hiring freelancers that have a great experience and who are reputed enough with good ratings.
The cons of drop servicing are that you have to manage a lot of people and make sure that the freelancers are delivering the projects on time. To address this issue, you could add an extra couple of days' time to the deadline when you are quoting your client so that you have a breathing room to get the work done.
Which of the Two Online Business Ideas are Better and Why?
Both of the above businesses are legitimate ways to start your career on the internet and make a great income. One isn't necessarily better than the other in general since both of them have their own pros and cons which is for you to compare and decide what suits you best. However, that being said – Drop serving is a great option if you are a beginner without much experience, whereas drop shipping can be a bit intimidating for someone who isn't aware of how internet businesses work. Drop servicing is a business that is comparatively quite new and it is difficult to find high-quality courses on it, whereas you would easily find courses for dropshipping.