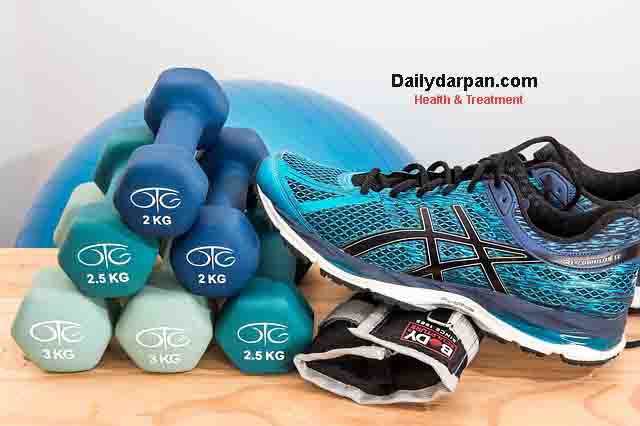 Well, from the title name of this article, hopefully you guys already relate the things I would like to tell you or at least just guess some of it.
If you are a professional athlete or a bodybuilder or just an amateur who is very enthusiastic to bodybuilding this article is for you. And, if you are getting fat day by day, want to control your overweight or just need to grow muscles in your body ( to impress someone) or being a serious one who have passion for workouts and exercises but didn't get time or scope to visit a gym often then this article is gonna help you.
Without further delay, let's get to the key points of this article.
First of all, you need some free space in your home to set up your gym. The workout space must have to be safer one and structurally sound. The free space required for a home gym in between 50-200 square feet. But it may vary based on the number and size of your workout equipment. Basement or the ground floor is quite an ideal place for establishing a gym because you know the sound comes from the devices and equipment could be annoying for other living on the same building. You can get help from an architect or interior designer to design an ideal environment for your home gym. They will also consider the sound and noise facts because you know, sound is a big issue in designing a gym.
Now, let's talk about pieces of equipment and other devices you may require to establish your ideal gym in your home.
Different workout equipment have different functions. But some basic equipment you should purchase for your home gym at first.
Weighted arm and ankle bands
There are some controversial issues with these bands but you know a little weight goes a long way. They have their own use. Mostly used in physical therapy but they can be used effectively in an exercise program. Basically these bands can be useful for those person who are just starting out or persons with weak side. These bands can sort out balancing problem of your posture and specifically could solve poor grip strength. For that, these bands are mostly used in a physical therapy situation.
There are several brands whose are already known to the gym community but Tone-y-Bands is one of best known product for such kind of things. They are fully adjustable and stay comfortably in your wrist, arm or ankle no matter how you move.
Medicine ball
Also known as a fitness ball. It's a complete body training tool and basically it helps you to build your strength and burn your belly fat very fast. Generally, a medicine ball workout mixes cardio and resistance moves. You can add more exercise including throwing balls to the walls, power cross chop, split push-up knee tuck, balancing burpee, back extension pass, triceps press matrix, medicine ball plank and many form other exercise using this medicine ball.
This medicine ball is approximately 13.7 inch and could weigh 2 to 30 lbs nowadays. Do not get confused with inflated exercise ball, these balls are much bigger in diameter, approximately 36 inch and used for other purposes.
Dynamax, Xerball and many well established brands are there for you who produce medicine balls. But, SPRI Xerball Medicine Ball has a wide variation. They are in various color and also available in 2, 4, 6, 8, 10, 12, 15, 18, 20, 25, 30 lbs. Even, they are available for thick wall and textured basketball like surface. You can repeatedly use it and they are completely durable.
For purchasing a medicine ball you may need to spend $30-$60 based on the company and the quality.
Dumbbells
The activities you can do with dumbbells are apparently perpetual so they legitimize their buy quickly. Search for hex molded dumbbells with dark rubber coating, these last the longest and are most agreeable for working out. Get 3-5 sets in a scope of loads to suit for various activities and for the quality you will pick up.
There are several companies who build dumbbells and most of them are good enough for you. But according to many surveys, Blowflex SelectTech 552 Adjustable Dumbbells are in many one's favorite lists. They are adjustable, durable, dynamic and quite well designed and can be used for multiple exercises.
Kettlebell
Well, many people will tell you not to use this tool for your exercise because many movements you can do by using a dumbbell. But single dead lifts to swings it will allow you to gain extensive strength within a limited space. And, I believe a kettlebell is a worthy investment for your home gym. There are a lot of kettlebell brands you will find with a different range. Titan Fitness 5 – 20 lb Adjustable Kettlebell is one the best product for your home gym. It will fit in your little space and converts the weights between 5 to 20 lbs based on your capacity.
Resistance Bands
Resistance bands are a versatile piece of workout equipment. These bands can be used to work on every muscle in your body and they are cost-effective equipment. Though it is foldable and small in size so it will take a lot of space in your home gym. You can perform a wide variety of exercise through a resistance band in a very little space. Several well-known brands are there for you including SPRI, Lifeline, Liveup Sports, Limm, Mark bell etc. Also you can use a sling shot from above mentioned brands mostly for your hip workout. Well, actually it is also the type of a resistance band.
Exercise Balls
Also known as balance ball, swissball or fit ball. It is large in diameter and well vinyl color coated ball. It is mostly used for strengthen your core and improving your stretching ability. And, doing workout with an exercise ball is real fun for an adult. He or she will never get bored with it. Working with a balance ball also help you to get rid of your lower back pain and make your glut muscles strong within a very few days. So, I suggest add this item to your home gym for fun mode exercises with a lot of benefits.
There are in different size so before purchasing on of them you need to measure yourself first. So, it's a matter of concern, how to choose a right one for yourself?
Well, in that case, you ought to pick a 45 cm ball in the event that you are between 4 feet 5 inches to 5 feet tall. If your height is between 5 feet to 5 feet 5 inches, select a 55 cm ball. On the off chance that you are between 5 feet 6 inches and 6 feet 2 inches, utilize a 65 cm ball. On the off chance that your tallness surpasses 6 feet 2 inches then pick a 75 cm ball. Wide number of company produce exercise balls around the world.
Gaiam Total Body Balance Ball, Trideer Exercise Ball are best brands according to many ones.
Exercise bench
With an exercise bench you can do multiple exercise including Push up, exercise legs & arms, swing seat etc. Also, you can use an exercise bench for cardio workouts and some more explosive exercises, to advance moves or make them easier or simply you can use it as a trusty bench for a rest during workout process. So, take it as a necessary equipment for your home gym and it will also fit in your little space.
Rep Fitness' Flat Bench, Fitness Reality 1000 Super Max Adjustable Weight Bench, Marcy Deluxe Foldable Utility Bench, CAP Barbell Deluxe Utility Weight Bench are some common brands which gain customer satisfaction with their products. They are handy and quite cost effective tools for your ideal home gym.
Yoga mat
It is not a matter what type of exercise you are performing in your home gym but you must need to perform some stretching to make your body flexible. In that point you need a yoga mat. Before purchase a yoga mat, you need to consider some facts like thickness of it. If it is too much thin then you may feel discomfort during your stretching routine and even you can get hurt during other exercises including crescent lunge. A standard yoga mat is about 1/8 inch thick and the thickest are about 1/4 inch.
Also consider other facts like the material of yoga mat, stickiness to the floor and texture of it.
Manduka PRO mat, Tapas Mat, Jade Travel mat, Liforme Yoga Mat, Sugarmat are some of the best known brands for yoga mats.
Treadmill
If you want to lose your belly fat fast and keep your heart fit, then treadmill is a great device you must include in your home gym. With a treadmill you can run for a mile or can walk a long way and it helps you build your leg muscles strong and running and jogging are the best exercise for cardio workout, who don't know.
Working out on a treadmill at home you can concurrently do other things of yours including watching a tv, talking over your phone and many more. As multitasking is possible with the treadmill so your exercise becomes more fun and quite appealing to you.
Nowadays, treadmills are in different size and shapes, some are foldable and some are non-foldable. Even some are known as budget folding treadmills. They are inexpensive and consume a very less space but running deck of these type of treadmills seems inadequate for tall guys.
But for your home gym you should choose a simple and folding treadmills because you need to consider space consumption fact.
Before you use a treadmill for running or jogging you need to follow some precautions first. Choose a comfortable pair of running shoes a start and finish each run with a five-minute warm-up of walking. And, if you have other medical condition then you should consult your doctor before running on your treadmill.
Lifespan TR1200-DT5 Treadmill Desk, Sole Fitness F80 Folding Treadmill, ProForm Pro 2000 Treadmill, NordicTrack T 6.5 S Treadmill, ProForm Performance 600i Treadmill are some of the best treadmill brands and models for several users based on budget and purpose of use.
Above mentioned pieces of equipment are actually necessary for making an ideal gym in your home and they are cost-effective in most cases. Some other equipment you may add to the home gym if you are enthusiastic to them or you can afford them.
In our next article, we will introduce you to some multi-purpose gym equipment or devices for your home gym. Till then stay tuned and be healthy & happy.